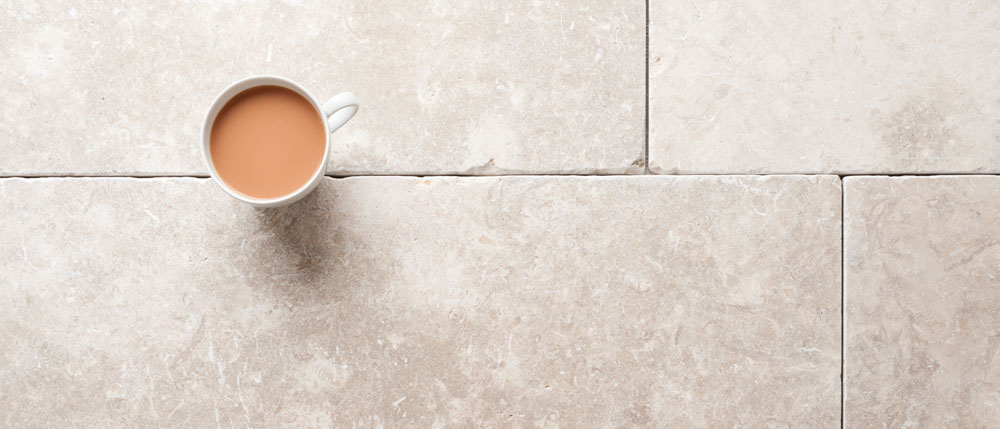 Limestone flooring is an excellent choice that will enhance any room and décor. With its wonderful natural colours and textures, limestone flooring will give a look which it totally unique to you and will enhance the traditional to the highly modern home. For this reason, limestone flooring has become a big hit with designers and home owners alike.
Maintaining limestone flooring
Maintenance of limestone flooring is the key to keeping your limestone floor not only looking its best, but will ensure you will be rewarded with a floor that will be long lasting and hard wearing for years to come. Limestone flooring is relatively low maintenance so it is the ideal choice for not only the home but also for use in commercial and public areas.
Maintenance of limestone flooring will start when your floor is laid. Limestone is a porous stone, and although softer than marble, is surprisingly hard wearing. Due to its porosity, the maintenance of limestone flooring begins at installation when it will be sealed with a impregnator type stone sealer and then treated with a wax to provide a waterproof surface and protect the stone, it is therefore essential that your limestone flooring is installed by a professional who has experience in working with this very special stone.
Limestone flooring comes in various finishes from the rustic tumbled to the smooth contemporary honed, there is a limestone that will enhance any room. The maintenance of your limestone flooring will ensure scruffs and scratches are avoided. Limestone will react to certain kinds of acids and liquids with chemicals such as vinegar or citrus juice so therefore the initial sealing of your limestone floor will help protect the surface from damage, especially if used in kitchens and bathrooms.
Once your limestone flooring is installed, sealed and waxed, the maintenance of your limestone flooring is relatively straightforward. When cleaning limestone flooring, your floor should be regularly swept with a soft broom or vacuumed to ensure any grime and dust is removed. For general maintenance, you should use lukewarm water with a small quantity of pH neutral cleaning agent which has been specially formulated as a cleaning liquid for limestone flooring using a well wrung flat-bottomed mop. When mopping your limestone flooring, you should ensure any excess water is wiped-up to avoid pooling and penetration into the stone, the floor should then be left to dry naturally.
For a periodical extra clean, your limestone flooring can be maintained using a mild alkaline deep cleaning product which has been specifically designed for this purpose. This will refresh your floor and remove stubborn surface stains.
Resealing of your limestone flooring will keep it in peak maintenance order and help it look its best. Resealing should be carried out around every 5 to 7 years, depending on the use and level of traffic your floor will endure.
With the proper care and maintenance of your limestone flooring, you will not only have a low maintenance floor that is economical but a floor that has a unique beauty that will give you pleasure for years to come all it needs from you is a little tlc.