Stone and Wood Shop Takes Las Vegas
After such a busy quarter with Stone and Wood Shop and the organisation for my wedding later this year, I finally took a well-earned break away. Earlier this month, I met up with 7 other friends at London Gatwick and set off on a short trip away to Las Vegas (the City of Sin) for my stag do. However, it wasn't all fun and games, I wanted to take this opportunity to explore the various different tiles used in the high end Hotels in Las Vegas and what the city had to offer in terms of architecture design. As it has some of the most extravagant hotels in the world, I know I wouldn't be disappointed!
So after 10 hours on the plane, sleeping and watching a lot of movies, we finally landed in Vegas. We all picked up our luggage and swiftly made an exit from the arrivals lounge, we had to make the most of this beautiful weather. As we came out and to our surprise, my best man Ben had organised a Limousine to pick us all up and take us to the famous 'Welcome to Fabulous Las Vegas' sign for a quick photo.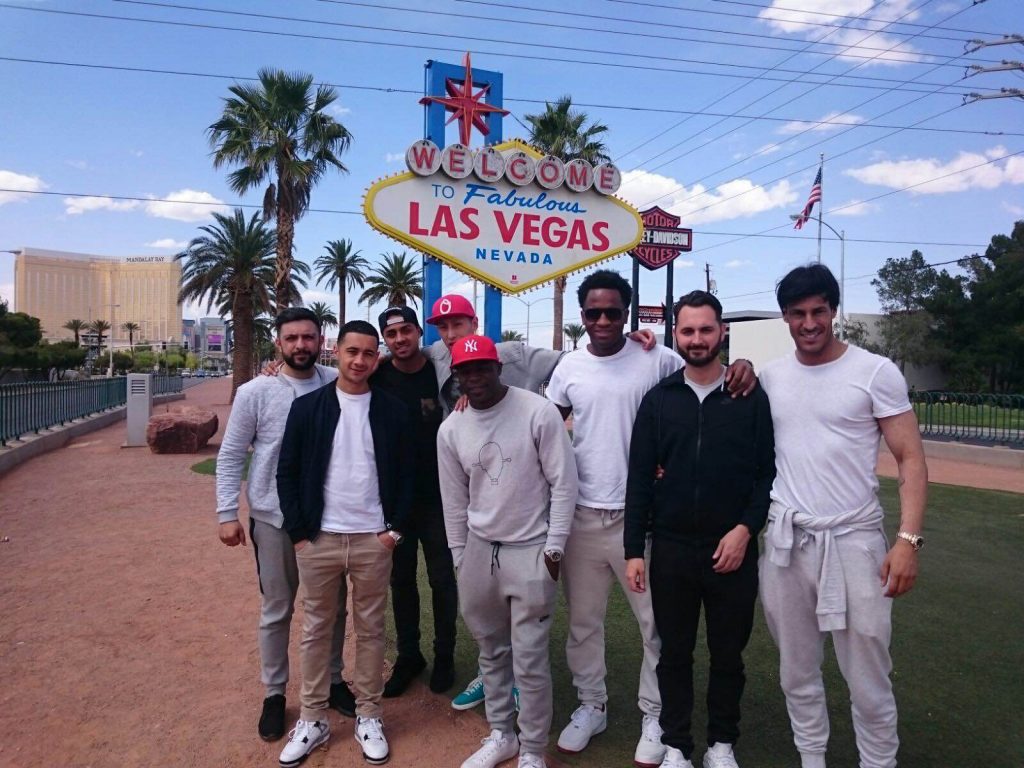 For the next 3 nights we are staying at the upscale and luxury 5 star ARIA Resort & Casino. The hotel has over 4000 guest rooms, 4 pool areas, 150000 feet of gaming and not to mention, what a beautiful lobby area too. Amazing marble and granite floors with no expense spared and laid in huge 2m x 2m opus patterns throughout.
ARIA Resort & Casino Hotel Lobby: http://bit.ly/1UQBLgO
The guest rooms were amazing. In this industry the first thing you notice anywhere you go is the bathroom and shower facilities. I know, I'm always in work mode, I really should snap out of this! The bathroom wall and floor tiles were composed of a beautiful light beige polished marble, which encapsulated the walk in shower unit as well. The marble was extremely similar to our Sofiya Beige Polished Marble, which has been an extremely successful product for us within high-end developments and 5 star hotels, and it was certainly great to see it in action!
Sofiya Beige Polished Marble: http://bit.ly/28B9VPR
We literally travelled the whole of Las Vegas, walking through the various different hotels (don't judge me, it was too hot outside on the strip) on a number of occasions and visiting famous landmarks. On our last day, we attended an awesome pool party at the high end Mandalay Bay casino hotel, kindly organised by my close friends Julian and Chi. Whilst enjoying the sun, music and drinks (of course) I did spot a familiar face. The familiar face being the type of tile used in the pool area, again, very similar to our Dijon Honed Limestone, I thought to myself.
Dijon Honed Limestone: http://bit.ly/1Uhndtr
Anyway, before I give too much away, I'll leave you all with some lovely photos of the trip. For more information on any of the mentioned tiles in this blog do feel free to contact us. Otherwise, what happens in Vegas stays in Vegas as they say!