Green can easily be associated with nature and therefore, as I'm sure you can guess, leaves us feeling grounded, calm and peaceful. There was a time when Green was my least favourite colour, painful memories of my dad pulling up to school in a Bright Green Fiat Panda has never left my thoughts. In recent years, however, it has endeared itself to me and, in turn, opened up my mind to its many wonderful evocative qualities.
'Green [colour] is very nourishing to your health, as it calms your nerves and balances your whole body by bringing healing feng shui vibrations from mother Nature. When working with green [colour] to create a good feng shui house, it is important to have at least several different shades of green in order to bring its healing effects'. -Found on about.com
Green is another versatile colour but, as with Purple, different types of Green have different effects;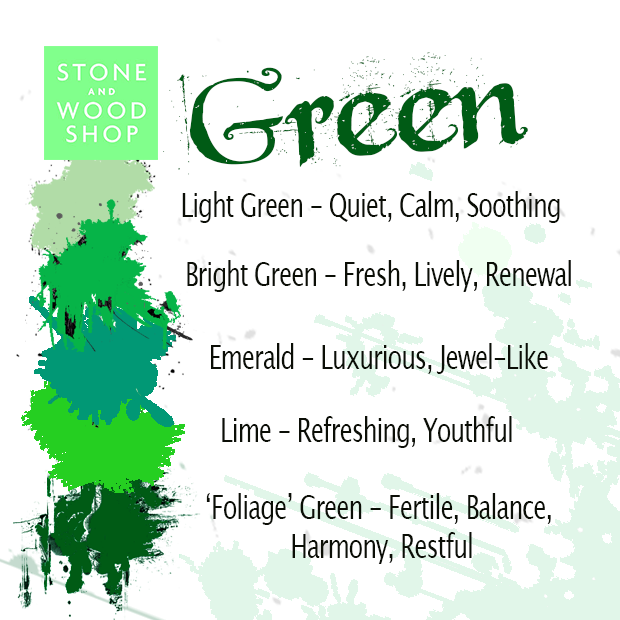 Most Greens would work well in a bedroom or living room setting, as the calming qualities will help you relax and unwind. I would suggest selecting Warmer Greens for this, as I'm sure you don't want your cozy space feeling chilly. Light Greens and Bluer Greens work well in bathrooms, Blue Greens in particular, as they invoke the feelings of harmony, restoration and rest. Like Deep Purple, Emerald is a good colour for rooms used to entertain guests, for example, kitchens or dining rooms. It is seen as luxurious and, of course, shares a name with a valuable and sort after jewel and our favourite city in Oz.
Fun fact: We all know that trusty Saint Nick (aka Santa) used to be dressed in green, for all those who didn't know Coca Cola was responsible for his current red attire. But, did you know that back in the 15th Century the Devil was also depicted as Green (pictured left) and has been linked to the colour green by medieval poets such as Chaucer.
But how does one match Green to anything else? Tip time! Take a photo of a landscape you love (or find a picture that already exists) and select colours from there. Photoshop is good for this or a simple to use apps like Coolors can be used to select colours from natures pallet. Now is also the time to get familiar with Pinterest. It's the perfect way to select a colour scheme, search 'green colour pallet' (or something to that effect) and voila! This does work with any colour or picture, but I love the idea of selecting natural colours from natural landscapes.
Next Issue: Daring to Use Red.