It's a little later than expected but Happy New Year to all of our customers! With half of January already over the memories of all that food and drink over the festive period is already a faded memory. We hope you had a lovely and relaxing break and for all of those who had building projects throughout (like me!) we're hoping it wasn't too stressful for you.
2015 was a fantastic year for us here at Stone and Wood Shop with more customers than ever visiting us here in Stanmore and contacting us about their projects. Whether they be Natural Stone, Porcelain or Engineered Oak we were able to supply some fantastic jobs of which we're going to be sharing with you all throughout the year. We will also be adding and changing the website as well as our showroom so keep an eye out!
We've only just started 2016 and already we have hit the ground running with lots of requests for our Diana Royal Marble. This Turkish marble has been one of our best sellers from the moment we started importing it and has gone on to feature in countless bathrooms, hallways, kitchens and living areas. One of the most versatile marble's on offer, it fits in perfectly with its beautifully varied textures of white, cream and ivory.
Available in both the Polished, Honed and Tumbled finishes it suits all purposes. So if you're worried about the little one's running around or have general slippage concerns, the Honed and Tumbled will leave your mind at ease and let you enjoy this stunning premium stone for years to come.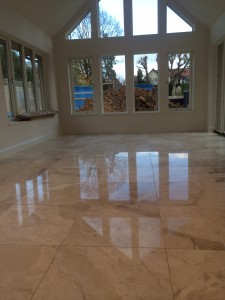 If you want to see the Diana Royal on display or any other of our beautiful Natural Stone's then call us on 0208 204 1121 or email us at info@stoneandwoodshop.co.uk today to make an appointment with one of our Sales Specialists. They'll be more than happy to show you around and help you through your project.
We hope that 2016 is a great year for you.