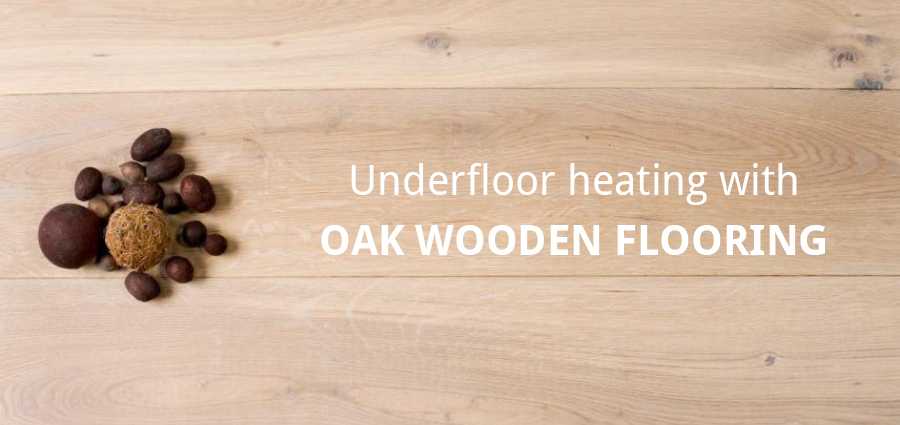 Choosing the right heating and flooring for your home is one of the most important decisions you will make when making your design choice. A good heating system is the foundation of a comfortable and relaxing home and should be cost effective, durable and able to withstand everyday living. Underfloor heating and Oak Engineered flooring have become an increasingly popular choice in recent years in both the new build and renovated properties as the two are the perfect partnership.
The basic principles of heating from underground is nothing new as the Romans were quick to realise the benefits of underfloor heating thousands of years ago and to this day you will see examples of this in the remains of their bath houses and extravagant villas. Modern technology has now channeled the benefits of underfloor heating making it more affordable, using state of the art multi-layering piping and highly efficient boilers which ensure perfect living conditions and temperatures evenly distributed throughout the home.
Under floor heating is silent and with the absence of cumbersome radiators, frees up living space, thus giving more freedom of choice when positioning furniture and curtaining. So, we have seen the benefits of underfloor heating but choosing the right flooring is essential and should be thought through carefully.
Under floor heating and Oak Engineered flooring bring the benefits of being warm under foot giving comfort as well as a good health choice especially if suffering from aching joints. It is also known to reduce the spread of allergens through dust mites, often exacerbated by central heating radiators, thus making it a good option for people who suffer with breathing problems.
Solid Oak is a living, breathing product and one of the most important points to remember is a solid oak floor will expand and contract depending on its environment. When a solid timber floor is laid, there is movement between each board and too many changes in environment, temperature and moisture can lead to problems of warping. With underfloor heating, the expansion and contraction will magnify due to the wood being subject to a higher degree of temperature and moisture loss.
Under floor heating and Oak Engineered flooring work well together due to the structure of engineered oak. Using a construction of a pure Oak sawn surface layer bonded to a quality Birch plywood the movement evident in solid Oak flooring is eliminated. When the oak tries to expand, the ply beneath it prevents it from widening and therefore eradicates movement.
An Oak Engineered floor will look just a stunning as a solid oak floor but has the advantages of working well with underfloor heating, will be hard wearing, easy to maintain and much more cost effective which makes it the ideal choice for a busy modern home.
Under floor heating and Oak Engineered flooring will bring a feel of luxury and cosiness to your home like no other. Oak Engineered flooring comes in a number of options from raw unfinished, allowing you to sand on site and finish to your own individual taste, to the natural oiled or hard wearing lacquered, you can create a look that will reflect your style and ensure a floor that is not only cost effective but breathtakingly beautiful that will be enjoyed for years to come.
Contact us for more details on our underfloor heating.