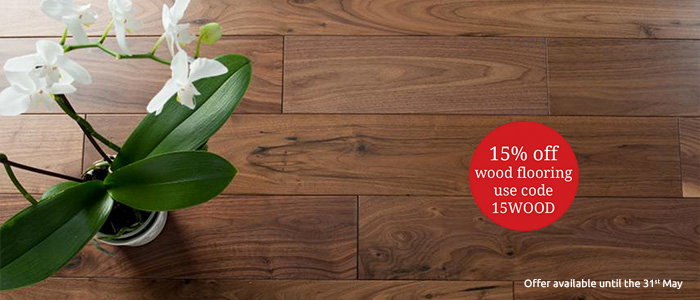 15% off wood flooring using code 15WOOD. Offer available until 31st May 2015.
The effect and look achieved from Engineered Walnut wood flooring will bring any room to life, complimenting your room to give a stylish look that is individual and truly distinctive. Black American Walnut grows in small groups or scattered individual trees throughout the central and eastern parts of the United States. Used for creating fine furniture during the colonial times until the latter half of the 18th century, this strong, fine and distinctive straight-grained wood excels in the making of gunstock, find quality furniture and beautiful wooden flooring.
American Walnut is imported from the most sustainable forests in America. Walnut is highly durable wood is used for cricket bats and often used to build boats so as a flooring, it works wonderfully.
Engineered Walnut Wood flooring is a cost effective, environmentally friendly way of creating a floor that looks exactly like a solid walnut floor, is easy to install and comes in a choice of finishes that will bring a look of richness and class to any room.
The construction of Engineered Walnut wood flooring makes it work for the modern home by being composed of bonded layers of high quality wood, topped with a 5mm layer of solid walnut. The bonded layers of Engineered Walnut wood flooring makes it more stable, especially in areas where humidity or fluctuating temperatures occur and has the advantage of being able to be placed over concrete or under-floor heating.
The main features of walnut and therefore Engineered Walnut wood flooring are it's unique grain character and its beautiful chocolate brown colour which brings a richness and warmth that cannot be beaten. Engineered Walnut wood flooring is a design statement that has been admired by interior designers for many years. Its opulent persona brings a feel of New England and works wonderfully with minimalistic and contemporary styles that allow its character and beauty to shine through.
Engineered Walnut wood flooring is highly regarded as one of the finest flooring products, often adorning up-market homes, restaurants and the finest retail establishments. With the warmth of its rich purple/brownish colour and its curly grain pattern it softens the edges of modernity and makes a statement that adds character and a sense of luxury. American Black Walnut will lighten over time as it is exposed to light although this can be reduced with UV filters on windows.
Caring for your Engineered Walnut wood flooring is simple and easy. Whether you decided to buy pre-lacquered Engineered Walnut wood flooring, which has been finished using a high quality lacquer finish that protects and enhances the true opulence of its character or you choose an unfinished product which allows you to finish your Engineered Walnut wood flooring to your chosen finish, you will achieve a floor that is breathtaking in its splendour. The water-resistant quality of Engineered Walnut wood flooring makes it extremely long-lasting, durable and reliable and will sustain years of the rigours of busy family life.
Choosing to install an Engineered Walnut wood floor is a choice you will not regret. If you want a design statement that will enhance your furnishings exquisitely and give you years of the finest quality flooring that won't let you down, an Engineered Walnut wood floor is the floor for you.
Check out our Engineered Walnut buying guide. 
Also available wooden flooring installation guide.