With so much diversity in the market for design, décor, architecture, style and flair of restaurants, pubs, buildings and bars in London, we thought we would show you how an idea or inspiration can help shape your business spaces in to cool functioning architectural spaces and venues.
Inamo is London's most influential immersive dining experience. As soon as you sit down, your menu is on the screen on your table! But what makes this experience even more fun and interesting is the way they have designed the space. Architectures of the project use bamboo poles to create a walkway through the centre of restaurant and use contrasting this with graphic panels and white vinyl wallpaper to give it a futuristic and inviting feel.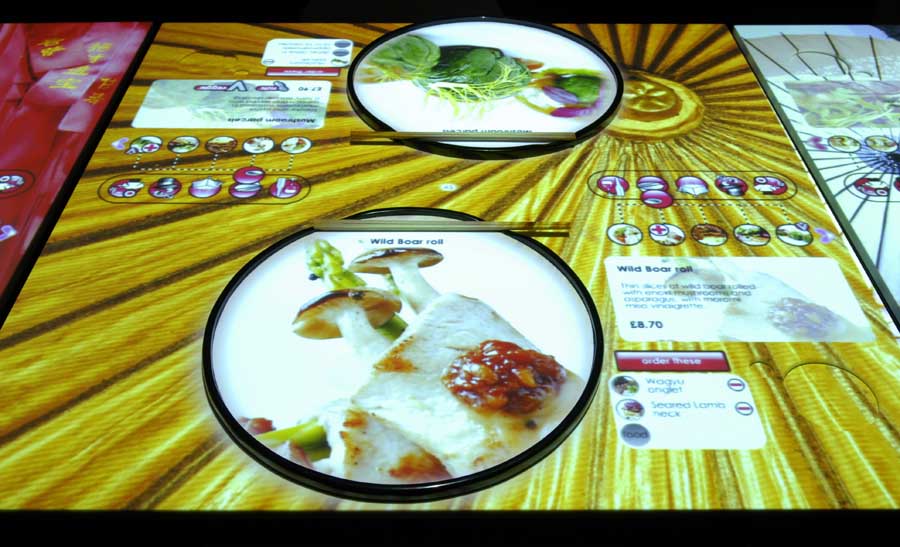 Spaces like Inamo that offer immersive experiences try to create spaces that are unique and suit the services they offer. This is important for all sorts of spaces whether it be bars, restaurants, office spaces or your home. Spaces such as Sketch offer more than just chic and elegant décor. Each room in Sketch (including the bathrooms) has its own theme.
The Gallery at Sketch is one of the most stunning and classic examples of fine dining. The entire room looks like the set of Scarface, with elegant tables, silver service; chic and elegant pink luxury sofa chairs and pink walls with white-framed pictures. The stars of the room are the yellow, black, white, pink and blue tiles that cover the entire room in a zig-zag that offers a quirky flair to the richness of the room.
Some spaces use themes as inspiration such as Beach Blanket Babylon. With a French Baroque interiors, this eccentric Georgian mansion offers a unique space that caters to the chilled out and the fancy individual. The floors are dark brown hardwood and to create a mystical and rustic overall look, while the walls, bar and furniture ooze a French shabby chic décor however still keeping it luxurious and informal.
Wahaca, a Mexican restaurant located at Southbank has one of the most interesting and innovative spaces in London. Not only does the space provide comfortable seating and bar area, the entire restaurant has been created with eight shipping industrial containers making to look like a glass box from the outside. By using unique elements such as industrial containers, lights and pop of colour on the furniture, the structure is a symbol of the art meets architecture and urban culture.
There are many ways to create interesting and distinctive spaces for your businesses whether it be a cool new bar, pop-up restaurant, your home, your office or your event. Stone and Wood offer a vast range of rustic, shabby chic, elegant and many more options on flooring that can really make your space stand out from the rest. Stone and Wood's latest collection, The Jubilee Range offers tiles and flooring that is modern and futuristic, suitable for cool and quirky spaces. We also have a wide range of wood, marble and porcelain tiles and flooring that can be the foundations to your unique spaces, whether it be at home or at work.
For more inspiration and tile work visit out our website: www.stoneandwoodshop.co.uk