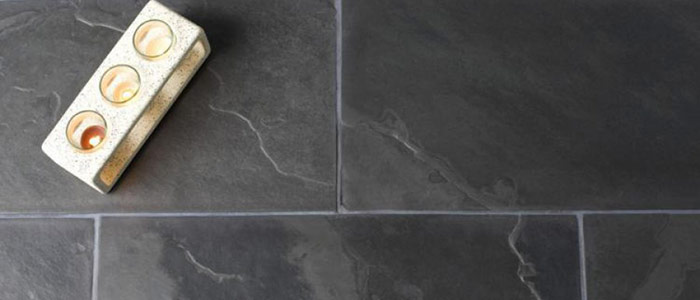 Slate is a metamorphic rock derived from an original shale-type sedimentary rock composed of clay or volcanic ash resulting in a foliated rock. When cut expertly via a specialised tool in the quarry, many slates will form smooth flat sheets of stone which have for centuries been used for slate on roofing tiles, slate floor tile and other purposes.
Slate is mainly grey in colour but also occurs in a variety of colours from the pale to dark grey which is usually used in roofing through to purple, green or cyan. Slate is particularly suitable as a roofing material as it has an extremely low water absorption. Its low tendency to absorb water also makes it resistant to frost damage and breaking due to freezing.
Slate floor tiles for interior and exterior use
Slate floor tiles in the home have become increasingly popular. Slate is used for interior and exterior use especially for flooring, walkways, stairs and wall cladding. In extensive quarrying areas such as Wales, there are still many buildings which are wholly constructed of slate. Slate can also be set into walls and used as a damp-proof membrane.
Slate floor tiles are often used with a chemical sealant to improve durability and appearance and increase stain resistance. Slate floor tiles are often machine calibrated to achieve a consistent thickness and therefore guarantee easier installation.
Slate floor tiles, being made from an extremely durable material and totally natural, will bring a beauty and elegance of style to your home which can only improve with age. Slate floor tiles will enhance any room of the home, from the kitchen and bathroom through to the hallway and living areas. As well as being a valued product to use in the home, it is also widely used for landscaping and exterior decoration.
Slate comes in a wide range of colours, varying from sky blue through to a variety of shades of yellow, gray, ochre and browns. Slate tiles are a popular choice for kitchens, being durable and unaffected by chemicals and provides a sterile surface which will be hygienic and bug free.  Get some free slate tile samples here.
Slate has become a popular material for the home, being non-slip, fireproof with unique characteristics which are beautiful and low maintenance when properly sealed. Because slate does not retain moisture, it is a perfect product for using with under-floor heating. Slate will cope with the daily grind of family life and is easily cleaned so the ideal choice if you have pets.
With a wide range of colours and sizes, there is a slate that will work well in your home. Slate floor tiles will fit perfectly to enhance any decor and can be cut to a variety of alternative sizes and comes in a rustic riven finish or a smoother brushed finish which will enhance your decor whether traditional or contemporary. Designers love working with slate because of its versatility and durability thus allowing you to create a floor which will be totally individual.
With the natural colour ranges of natural slate which can never be replicated, you will have your own work of art created entirely by nature allowing you to design a different slate design for every room if you wish, the choices are vast. There can be no denying that in choosing slate tiles you will introduce a beautiful and cost effective addition to your home.